WARNING ABOUT SOLICITATIONS OF CLASS MEMBERS
Some potential Class Members have received mailings by a company or companies claiming they can help you file a claim in the Rocky Flats class action settlement.  The mailings are labeled "FINAL NOTICE" and they give an incorrect February 17, 2017 deadline for filing a claim. This is false: The Court-ordered deadline for filing a claim is June 1, 2017.
The mailings are not the Court-approved Class Notice.  They were not authorized by the Court.
The real Class Notice is available here. It is important to read the official Class Notice.  The Class Notice contains information about the case, the settlement, and your rights as a potential Class Member. 
 
The mailings were sent by a third-party claims processing company.  YOU WILL PROBABLY RECEIVE LESS THAN YOUR FULL SETTLEMENT AMOUNT if you hire a claims processor. These companies charge a fee, usually a substantial percentage of your recovery.
 
You do not need a claims processor. The Settlement and Claims Administrator, Heffler Claims Group, was appointed by the Court to help you to file your claim, at no additional cost to you.
 
If you have any questions or need assistance with filing your claim, please contact the Settlement and Claims Administrator at 1-844-528-0187, or via the "Contact" section of this website.  You may also contact Class Counsel:
Merrill G. Davidoff
David F. Sorensen
BERGER & MONTAGUE, P.C.
1622 Locust Street
Philadelphia, PA 19103
Tel: (215) 875-3000
If you have signed an agreement with a claims processor and you feel you were misled, please contact Class Counsel immediately.
Did you own property near and downwind from the former Rocky Flats Nuclear Weapons Plant (in Jefferson County, northwest of Denver, Colorado) on June 7, 1989?
Are you an heir of someone who did?
Are you the successor of an entity that did?

If you owned a home, business, or other property in the Denver, Colorado area around the Rocky Flats Nuclear Plant on June 7, 1989, or if you are the heir to that property owner, a recent class action settlement with the former operators of the Rocky Flats Nuclear Weapons Plant (Rockwell International Corp. and The Dow Chemical Co.) may affect your rights.
This website is authorized by the Court to explain your rights, to help you determine if you are an eligible Class Member, and to help you file a claim.
Dates and Deadlines will apply.  Please read this website carefully and contact the Settlement Administrator if you have any questions about this settlement.
Please note that PDF versions of: (I) the Notice, which includes important information about the proposed settlement, is available here; and (ii) the Claim Form, which needs to be submitted by June 1, 2017, is available in PDF form here.  An on-line Claim Form is available here. An interactive Address Look-Up tool (which you can use to check if a particular property is included in the Property Class Area) is available, below.  
Please check back for updates.

The map below represents the Property Class Area: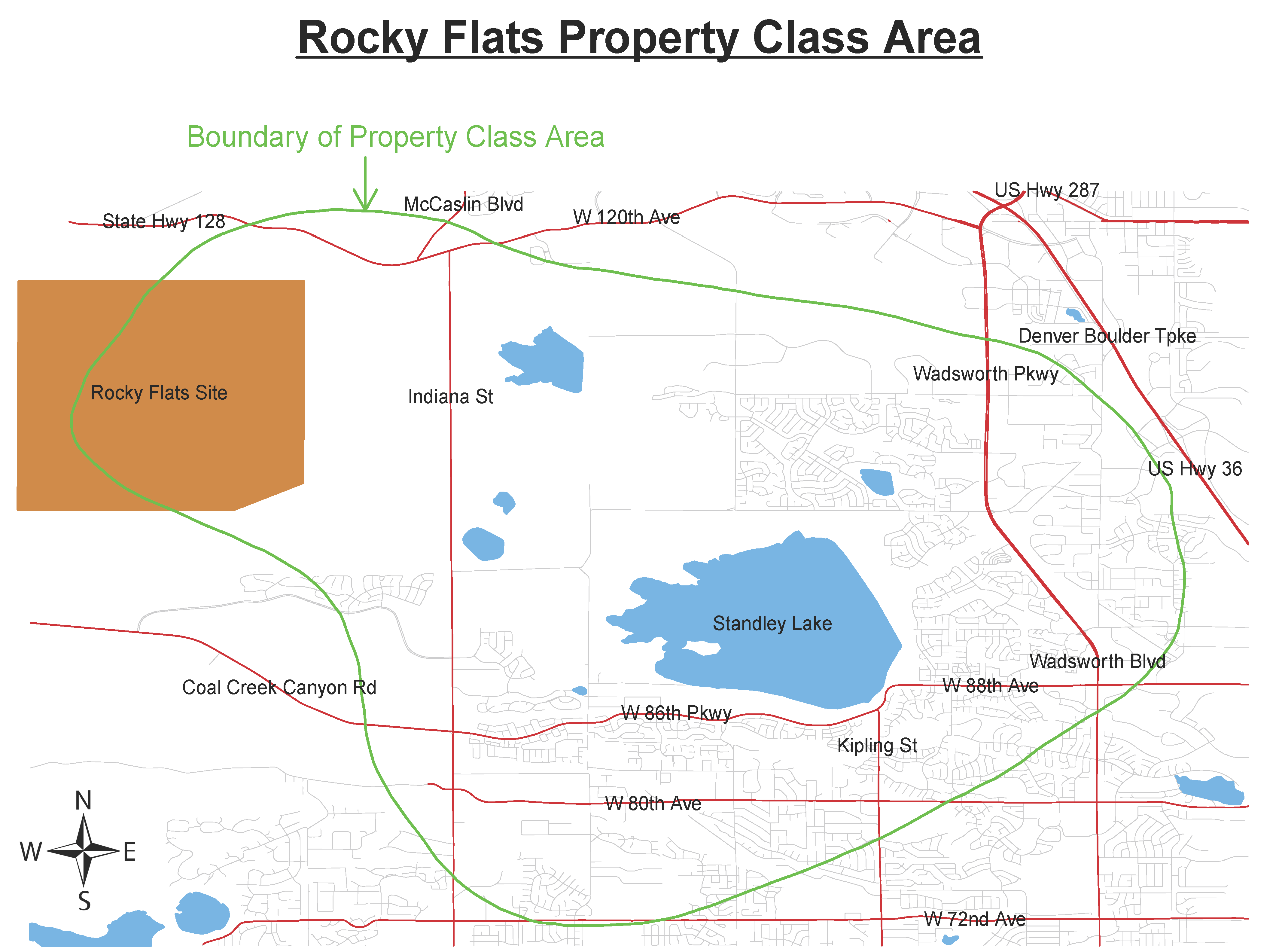 Click here to see a detailed map of the Property Class Area.
Problems? Questions? Please call 1-844-528-0187 for help.
This website is authorized by the Court, supervised by counsel and controlled by Heffler Claims Group, the Settlement Administrator approved by the Court. This is the only authorized website for this case.

For more information please call 1-844-528-0187.